Safety
Real, safe benefits
Benefits are only real when safe. That is why the Nexus fabric is tested for both the release of substances and in compliance with the non obligatory, restrictive standards:
UNI EN ISO 10993-10:2010
UNI EN ISO 10993-5
MEASUREMENT OF RELEASE DRY AND IN WATERY SOLUTION
Laboratory/Author: University of Pisa - Department of Chemical Engineering

Result: +30% post-surgery recovery
No release of dry substance measured. Release of substances in watery solution lower than a common polyester.
CYTOTOXICITY - ALLERGIC SENSITISATION - SKIN IRRITATION
Laboratory/Author: Coronati Consulting LAB

Reference Standard
UNI EN ISO 10993-5 ; ISO 10993-10:2010

Result:
Not cytotoxic
Not sensitising
Not irritating

MEASUREMENT OF THE VARIATION OF ZETA POTENTIAL AND MOBILITY OF WATER DUE TO EXPOSURE
TO NEXUS FIBER
Laboratory/Author:
University of Ferrara - Department of Pharmaceutical Sciences

Result:
Compared to controls (samples with no exposure to Nexus fiber), samples exposed to Nexus Energy Source technological fiber showed variation to Zeta Potential, Mobility and Conductivity. Those variations were NOT induced by chemical agents.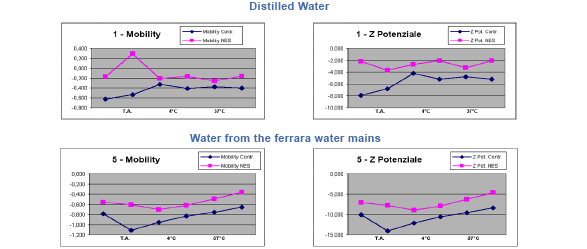 MEASUREMENT OF INFRARED RELEASE
Laboratory/Author:
University of Pisa - Department of Physics - Faculty of Physical and Natural Mathematical Sciences

Description: Result:
The Nexus fabric, examined during experimentation shows, in the infrared regions with a wavelength of between 4 and 14 micrometers, an increased radiating emission than identical fabric made from simple polyester, and compared to a cotton fabric.